First, it may help to distinguish that there are two components to a TED-Ed lesson: the video itself, and the lesson that is layered on top of it. They are distinct in that many people only view the videos, while others also use the lesson components in classroom settings.

With that in mind, transcripts are not actually accessible on ed.ted.com lesson pages, which are basically just a layer on top of the original YouTube video. Lesson pages are not intended to offer full YouTube video functionality, but rather are meant for hosting the Think, Dig Deeper, and Discuss functions, i.e. the lesson component.

To access transcripts, TED-Ed videos needs to be viewed either where they are originally hosted on YouTube, or in the main TED content library at www.ted.com/talks. To go directly to the original YouTube video page from an ed.ted.com lesson page, simply click the title of the lesson in the video player, as shown in this image:

​
​


This will open the video's actual YouTube page. (Or you can generally go to the TED-Ed YouTube page by visiting https://www.youtube.com/user/TEDEducation)

Once you're on the YouTube page of the TED-Ed video, follow these steps to access the transcript:

1. Open the full description of the video by clicking "...more" or anywhere in the lightened box beneath the video player.
​​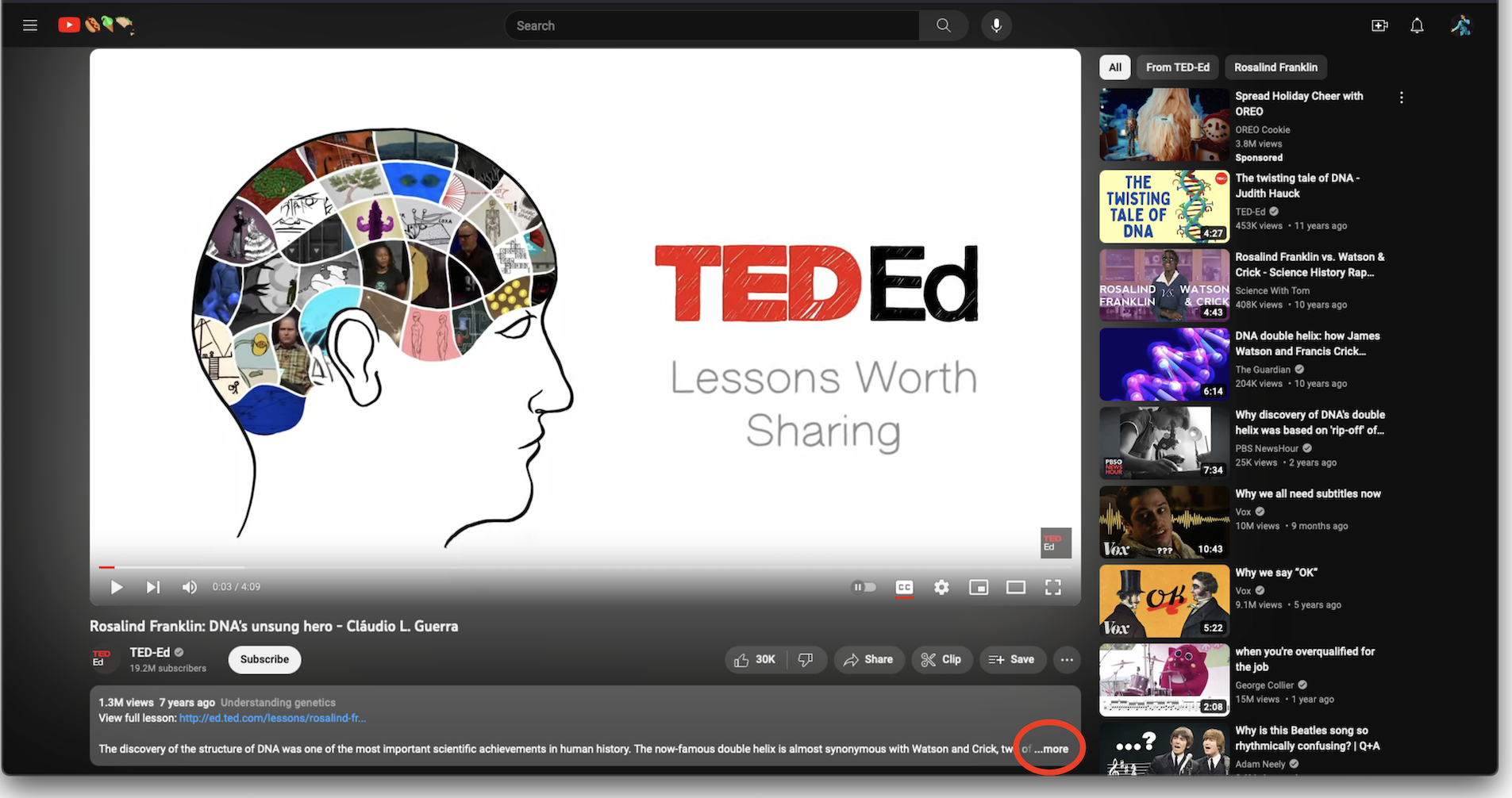 2. Click Show Transcript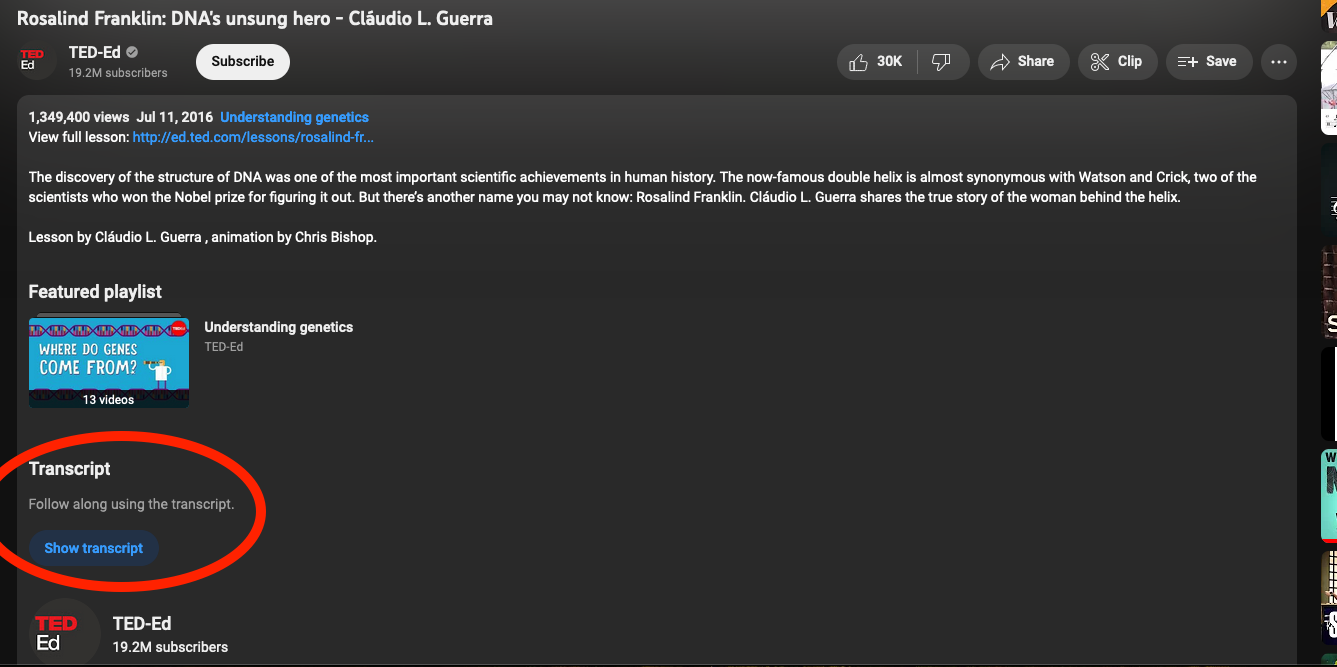 3. The transcript will open to the right of the video player:

​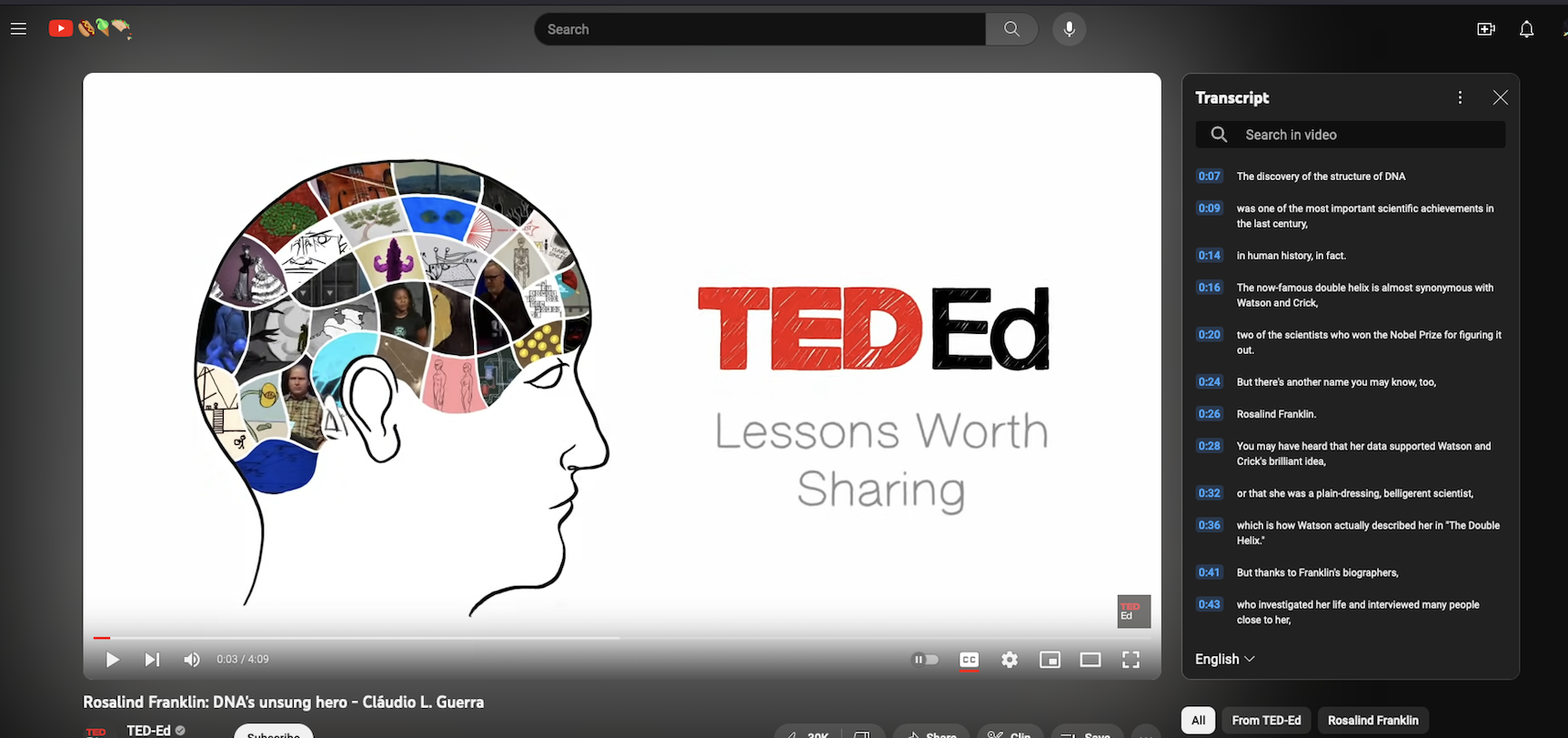 ​

3. At the bottom of the transcript, you might see the text "English (auto-generated)". YouTube will sometimes default to an auto-generated transcript, which is often not totally accurate. Click that text to open a menu of language options. You'll be able to choose an accurate transcript that has been transcribed by a volunteer in our TED Translators program.


You can also view many TED-Ed videos within our TED.com library at www.ted.com/talks. Transcripts for TED-Ed videos on TED.com are very easy to access:

1. Click "Read Transcript"

​
​

2. The transcript will open to the right of the video player.