Your TED-Ed Account
TED-Ed accounts are created through TED.com (they are the same account). Registering for a TED-Ed account and working on TED-Ed lessons is completely free, both for teachers and students! You and your students can create TED-Ed accounts by visiting this link:
https://auth.ted.com/users/new
After creating an account, a confirmation email will be sent to the email you used to sign up. The email will contain a link that will need to be clicked to confirm the new account.
If you do not receive this email, it's likely because your school's email system blocks incoming email from our automated mail client ("Mandrill"). You may need to approach your school's IT team or email administrator to inquire about having the "Mandrill" client whitelisted.
I forgot my login or password.
If you forgot your password for TED.com, you can request a password reset. A link to reset your password will be sent to the email address associated with your TED.com account.
If you forgot the email address you use to log in or if you are still having trouble logging in, please email our support team at contact@ted.com.
How can I delete my TED-Ed account?
We're sad to see you go! Deleting your ed.ted.com account will completely remove all traces of your user information from ed.ted.com. This includes your lesson activity, settings, etc.
Please email contact@ted.com if you'd like us to take down your account.
Student TED-Ed Accounts:
After creating a lesson, you'll be given an option to either require TED-Ed accounts for all lesson-takers, or to allow them to submit answers using only a nickname.
According to TED's Terms of Use, anyone 13 and over can join TED.com or ed.ted.com by providing basic contact information (first and last name, email address, country of residence).
If you are under the age of 13, you may not create a TED.com account or use a nickname to save responses on TED-Ed lesson pages. You're welcome to watch TED-Ed lessons and enjoy the site, but you need to be at least 13 to create an account on TED.com or submit work using a nickname.
Each student will be prompted to create a free account when they begin work on your lesson: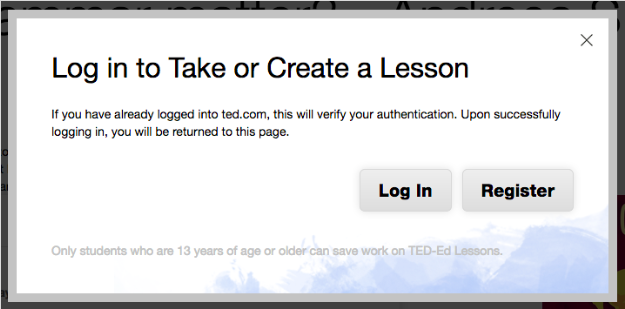 We allow account creation either via email or via Facebook. We do not currently support Google accounts, and we do not offer any batch account creation options. Any questions about creating TED-Ed accounts should be sent directly to TED account support at contact@ted.com.
After creating an account, students will be able to respond to Think questions and post comments on Discuss forums. You will be able to send your students feedback on their work.
Students to submit answers using a nickname:
If students are not allowed to create an account, then they can be prompted to enter a simple nickname when they begin work on your lesson: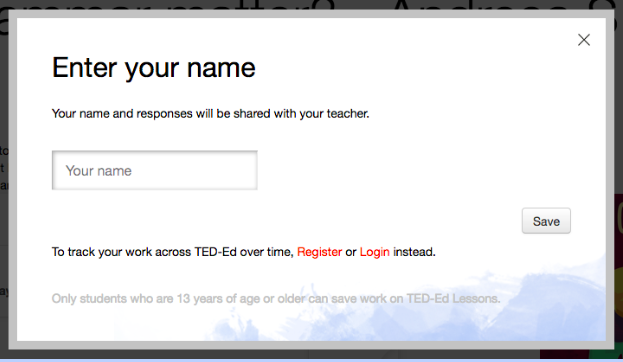 If a student is using a nickname, they will need to complete all their work in one session, since they will not be able to log back in to add to their responses. Students using nicknames can submit answers to Think questions, but they cannot participate in Discuss forums. Responses from students using nicknames will appear normally in your lesson stats, but you cannot send feedback to students using nicknames since we do not have a way to contact them.