Create your own by following these steps:
Step 1: Create your TED-Ed account. Go to ed.ted.com and click "register" in the right upper corner. We'll ask you for a little of your information and then you will have a username and password to manage all your activity and lessons.
Step 2: Choose the video for your lesson. You can customize a TED-Ed Animation, or visit our video search page to select a video where you can search by keyword, or paste in a YouTube URL (both public or unlisted YouTube videos work). Note that the videos here have not been filtered or vetted by the TED-Ed team, so make sure that you review the contents of any video you're not already familiar with!

Step 3: Create your Lesson.
3a) Customize one of TED-Ed's animations. You can also use any of the sample lessons that we provide in our public lesson library with your students. To do this, visit any of our lesson pages that you're interested in, and use the red "Customize This Lesson" button at the bottom right to copy the lesson to your account. Keep any of our pre-populated questions and resources that you like, or feel free to add your own!
3b) If you are selecting a new video from youtube, put the url in the bar under "Create a Lesson You'll be able to add an introduction to the video as well as the Think (multiple choice and open ended questions), Dig Deeper (additional resources), Discuss sections (guided or open forums).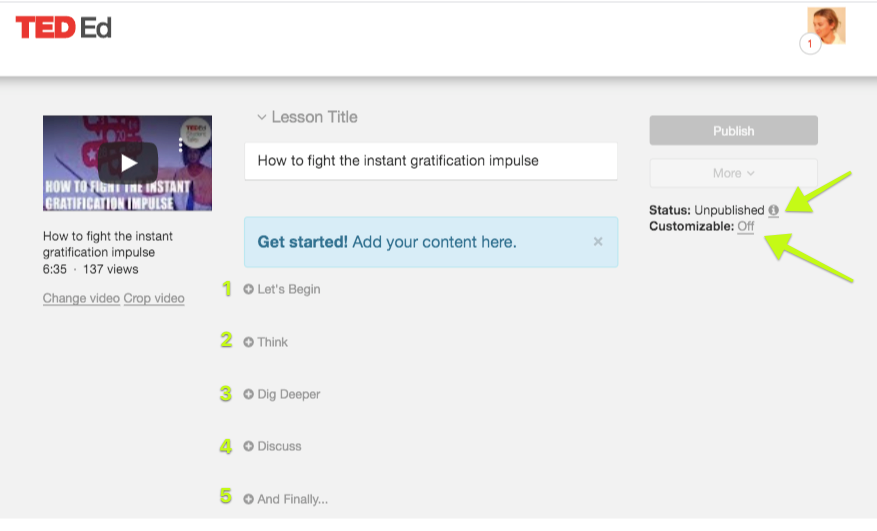 Step 4: Publish your lesson. After you publish your lesson, you'll receive a unique URL for your lesson page. Only you have access to this link, and it is not listed in site search on ed.ted.com or indexed by search engines. But anyone you share this link will be able to access it so you can share it with your class in whatever way works for you.
*If you are adding a new video to the library, when you publish it, you can also choose to make it customizable, which means that others will be able to create their own lessons around the video you have added.
Step 5: Monitor progress. As students submit work on your lesson page, you'll be able to monitor their progress and view their answers. You can manage the lessons you've created, return to editing your drafts, or access student work at any time by visiting your lesson activity page. Learn more about managing your and your students accounts in this support article!